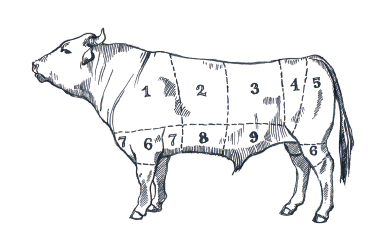 The Wagyu Beef we serve in our restaurant is piece of pure nature. Coming from absolutely pure kashubian terytoria region, from our  own cattle. Incredibly marbling make this beef exceptional tender and taste. Our Staff will be more than happy to give you more informations about cuts sizes and desired donenes.
1.Chuck 2.Rib 3.Short loin 4.Sirloin 5.Round 6.Shank 7.Brisket 8.Plate 9.Flank
Our lamb
The lamb, which we are pleased to serve You comes from lambs of two breeds Wrzosówka (Heidschnucke) and Berrichon du Cher.
Our farm is located in the heart of Kashubian region in Poland on uncontaminated areas covered by the protection program Nature 2000, which has exceptionally clean, full of herbs, meadows and pastures. That is why our lamb is very delicate, juicy and has incomparable aroma.
circle
Burgers
Our burgers are prepared daily from fresh beef from our own breeding Wagyu cattle. Carefully we select the meat for burgers that were served the best quality !